Casting Call by D. Moonfire
Casting Call is now available for the Kindle (and their cloud reader, PC's, etc) for $2.99 (or the equivalent).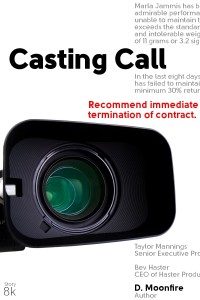 For the last six years, Marla was a fixture of the wildly successful Donna's Teddy Clubhouse, a show aimed for competitive Caucasian Northern American Girls 14 market. But, age betrayed her and she was fired for not having a profitable enough body according to the exacting standards of the production company. Eighteen years old and alone, she has no future in the holographic markets and no skills to find new employment. Does she abandoned her love of acting and find a new job? Does she just survive on the paltry incoming from her investments? Or are there shows out that don't belong to the standard, cut-throat markets?

Casting Call is a short story set in a cyberpunk world of ubiquitous computers, razor-thin profitability, constant advertising, and microsecond management.
(I didn't translate it into these languages (not that good), but this is where they are located in the country-specific Amazon sites.)
This is my first foray into the Amazon Kindle store (actually self-publishing anything online in a commerical sense) under my own name. I've helped others put up books and stories, but I've never done it before. Naturally, I spent weeks fussing about it, tweaking the format, and worrying about the last three paragraphs. I've never done it before and I wanted it to be "perfect", but as Fluffy told me repeatedly "it will never be perfect." So, I just hit the switch last night and figured that I've done the best job I could.
I had a lot of help with this one. I have to thank everyone who sufered through my previous cover post and the Twitter discussion. The cover I liked the most (#4) ended up not being the one I picked. Only three people picked it, seven picked the one I used, and two picked #2. I think that was a pretty good answer.