So, exactly a month ago, I went to my first convention as someone standing behind the table. It wasn't for writing or games, which I always dreamed it would be, but to help SMWM with her photography business (Creatively called Moonfire Photography).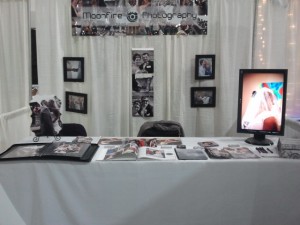 Getting started
Getting to the convention was fairly hard, mainly because neither of us have ever really done it and we didn't know what to expect. I knew there would be a back bar and a curtain and a table, but not much else.
We started with the banner. Most of the pictures were from her previous photography sessions. We went through a number of iterations until we found what you can see in the above picture. I also went through my good-sized font collection to find something somewhat distinctive and readable.
We also scavaged a lot from home. That monitor is my screen for my desktop computer. It rotates which works out well for displaying portraits. We had someone that said it was distinctive since everyone else had their widescreen set up properly. The portfolio book on the left has been following her for years. We just shuffled it so the wedding pictures were in the front and the other stuff in the back.
The white box on the right? The black frame hanging from the back? The easel for the cut metal picture? Last minute purchases on the way home from the day before. Once we got there, we realized we were missing way too much.
It was really cool to see lines of perfectly white booths become something more interesting. One of the vendors across from us just put up a few flowers and a bowl, but most brought the same hodgepodge collection of stuff and threw it up. They just knew what they were doing and it looked pretty good; but as I saw it go up, I noticed the same discord.
The wedding expo
We were "on duty" for three hours. SMWM was nervous as hell and I was probably just up there. Fortunately for me, I normally talk a lot, so I wasn't worried about speaking for three hours solid. If you ask my co-workers, you'll find out that speaking is my M.O. pretty much all the time (unrelated, it was suggested that EDM isn't speaking because I don't shut up).
The problem came in because I don't know her business. We keep our hobbies and side projects pretty separate except for the "look at this" moment. I prefer line drawings and watercolors, she likes photography. She likes poinet memoirs of romance and silly covers; I like my books bloody and high fantasy.
Easy enough to handle, though. I listened to her spiel a few times and threw myself in. Smile in all the right places, lure people in with discrete pointing to the free raffle, and generally ran through the list. The only thing I really had a trouble is that I point with my middle finger instead of my index. I was afraid I gave a few too man people the finger that day, but no one stormed off.
Friendly competition
There were actually a few photographers that came over and complimented her pictures. We were a bit worried because there was a photgrapher across from us, but they ended up being very friendly. (I suspect because they were based in Cedar Falls and we're in Cedar Rapids).
There was a pastor, though, who was kind of an ass. Very nice, but as he was introducing himself, he was tossing pencils with his name and phone number on your table. And then he would randomly show up during the convention and toss more pencils on everyone's table. I thought it was a bit rude, but... I just set the pencils aside (now, if they were Pentel A55s, that would be a different story).
Retrospective
Retrospectives are a wonderful thing. It is that point when you sit down and come up with "what we did wrong". We are starting them at work, but I've done them for home projects for quite a while. We did figure out a few things that we would change. You can see one of them in the above picture: the pictures on the backdrop aren't hung properly. That was an unfortunate problem of only having an hour to set up. Next time, I'll hang them via the corners.
We found a typo in the price list, after we spent a few hundred to print it. That was less than thrilling.
If we continue doing this, I'm sure we'll get more pictures and more variant in the weddings. I also want to switch to canvases in a Windows 8-style grid. Something fairly stable and classy. No idea if I can, but I have a half year or so to figure it out.
Fair is fair
Part of the current plan is for me to support her photography business as it gets off the ground. She's spent years supporting me with writing. The endless nights of "I suck as a writer!" and giving me weekends to finish some imaginary deadline. So, the end of last year and this year is basically for her. To give her a chance to shine.
Always with the plans
I plan ahead and I am very patient. When she got a job working as a church photographer, we knew the company was... let's say Not Good™. But, it taught her a lot of skills she needed to get where she was: how to photograph under stress, how to get people to relax, and the sheer technical skill that three years of doing it almost every week will give you.
Before then, it was sending her to graphic design college to find out she actually liked photography (and not sketching and line drawing which is what I hoped she would find interesting).